Bed Bug Furniture Removal & Mattress Disposal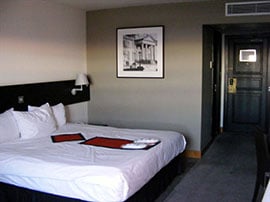 Do you suspect you may have bed bugs at your apartment complex? We are a licensed and insured bed bug exterminator offering guaranteed treatments across Arizona.
With 8,000+ bed bug treatments across the Valley, we have the expertise and background to eradicate bed bug infestations in all apartment complexes.
As soon as you or a tenant has discovered or reported a bed bug sighting, you should immediately get it taken care of before the potential bed bug infestation spreads to adjoining rooms.
Once you contact a bed bug professional to set up a bed bug inspection, they will provide a complete and thorough inspection to confirm if the unit does have bed bugs.
If you are the apartment complex owner and responsible for your own pest control, leaving a bed bug infestation untreated can be bad for business. There are a number of apartment review websites and a handful of one-star reviews can quickly lead to a bad reputation that is hard to break.
Bed Bug Treatments for Apartment Complexes
We offer two types of bed bug treatments – a heat treatment or professional-grade chemical/pesticide treatment. Both are 100% effective and guaranteed to work.
Option #1 – Bed Bug Heat Treatment
With just one treatment, instnatly eliminates all bed bugs and eggs – 100% success rate. All stages of bed bugs including adults, nymphs, and eggs are exterminated.
Option #2 – Chemical/Pesticide Treatment
In most cases, takes up to 30 days to eliminate an entire bed bug infestation. Bed bug eggs must hatch and come in contact with our professional-grade chemical/pesticide.
For complete peace of mind and guaranteed removal of ALL bed bugs, we offer a 1-year warranty with our heat treatment, and up to a 6-month warranty with our bed bug chemical treatments.
Bed Bug Inspection for Apartment Complexes
Whether you are in a two-story house, apartment, or commercial building, the first step is always a bed bug inspection.
A bed bug inspection will allow our licensed Bug Bug Experts to fully assess your potential bed bug infestation and provide the best route of treatment based on his/her findings. You can schedule an inspection today by calling 623-202-7924.
Frequently Asked Questions about Bed Bugs
Q: Where are bed bugs often found?
A: They like to hide in small cracks and crevices close to a human environment. Often found in the bed, including the box spring. You should also check fabrics like curtains and clothes, as well as dressers, nightstands, baseboards, etc.
Q: Will I need to get rid of any furniture?
A: It is not necessary to get rid of your furniture. Your bed or furniture may have bed bug spotting from digested blood and you may decide to get new furniture due to that, but both our treatments allow you to keep your furniture.
Q: Are your bed bug treatments safe?
A: Yes, both treatments are safe for humans and pets. We are a licensed bed bug professional and all of our Bed Bug Experts are trained and licensed applicators.
Q: What is the BEST treatment to get rid of bed bugs?
A: The very best treatment is a bed bug heat treatment. This is because it provides instant relief from all bed bug bites. With just one day, all bed bug and eggs will be eliminated. The other option, a chemical/pesticide treatment, will take up to 30 days to eliminate an entire infestation.
Bed Bug Customer Testimonials
"We recently had a bed bug scare. Anthony, the owner, was more than helpful. He came out, assessed the situation, recommended a spray, and came back to do the spray himself! He was very knowledgeable and was able to answer any questions we had as well as give us tips for the future."

Rating:5 of 5
Sincerely, Paige L.