Phoenix Bed Bug Pesticide/Chemical Spray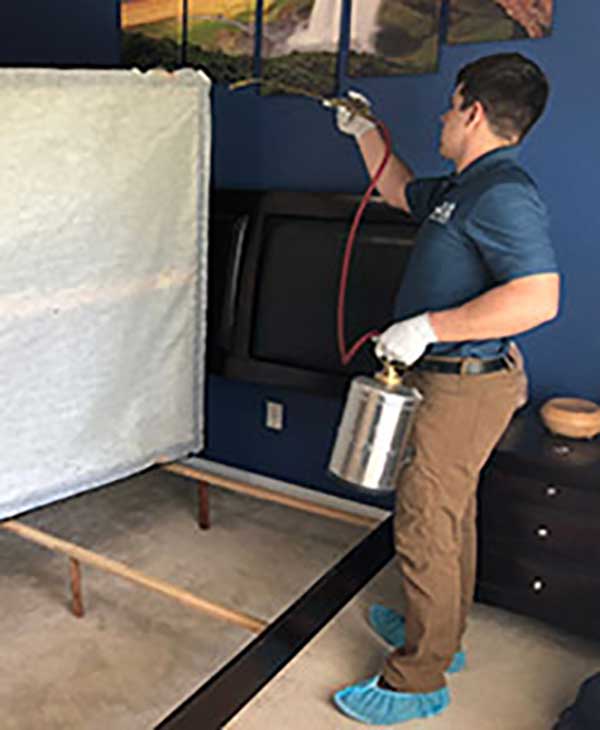 When it comes to getting rid of a bed bug infestation, your options are between a bed bug pesticide/chemical spray and a heat treatment.
Although a bed bug heat treatment is the best option because it will kill all the bed bugs and eggs on just one day, it is also a very costly treatment that not all are able to afford.
A bed bug pesticide/chemical spray is the other less-expensive option, but it can take up to 30 days before the entire bed bug infestation is gone.
If you decide to go with this treatment option, a licensed bed bug technician will thoroughly and tediously apply our professional-grade pesticide in bed bug hiding spots and areas that can be reached.
Unlike the heat option, pesticides cannot kill eggs and cannot reach all areas. After we spray you may notice bed bug activity for up to 30 days as eggs hatch and bed bugs come out of their hiding spots to come in contact with our pesticide.
Bed Bug Warranty – We Guarantee Our Service
With a bed bug pesticide/chemical spray, you are offered up to a 6-month warranty. This bed bug warranty will protect you should if you were to see any bed bug activity within your warranty period. All you have to do is give us a call and we will schedule a time to re-treat at no extra cost.
We also offer a 1-year warranty with our heat treatment option. You can learn more about this treatment on our bed bug heat treatment page.
When you hire Phoenix Bed Bug Expert, you are hiring a professional company that only treats bed bugs. Our knowledge and experience when it comes to bed bugs cannot be matched by other general pest control companies.
To request a free estimate or schedule service, give us a call at 623-202-7924.
Common Questions About This Bed Bug Treatment
Q: Is the pesticide/chemical harmful to my family and pets?
A: We take every precaution to ensure the safety of your entire family and pets. When the products are used correctly and according to the labeled instructions, they pose no harm to your family or pets.
Also, keep in mind the pesticide industry is highly regulated and all pesticides are carefully tested for their potential effects on human health and the environment before they can be registered with the Environmental Protection Agency (EPA) and sold.
Q: How long does the treatment take? Do we need to be out of the house?
A: While we are spraying your home, all people and pets must be out of the house. Most sprays can be completed within one hour. Everyone must stay out of the house for 6 hours after the spray is done to allow time for the chemical to dry.
Q: Are there any guarantees that this chemical/pesticide treatment will work?
A: We guarantee our chemical treatments with up to a 6-month warranty when we treat the entire home. This will keep you protected even if you were to reinfest your home from another source. As long as you are within your warranty period, we will come back to re-treat at no cost to you.
We provide a 1-year warranty with our other treatment option, a bed bug heat treatment.
Q: Is there any risk to my belongings or furniture being damaged?
A: There is no risk to any of your belongings or furniture when you go with either of our treatment options. There are preparation instructions for both treatments, but as long as you follow the preparation instructions, you have nothing to worry about.
Q: What can I do now to start getting my home ready for treatment?
A: First you should give us a call to schedule a free bed bug inspection. During this inspection, we will thoroughly inspect your home and determine where the bed bugs are, and what the best route of treatment would be for your infestation. We will provide our preparation instructions for both treatments and answer any questions you may have during this free inspection.
Regardless of which treatment you decide to go with, here are a few things you can do to get ready for a bed bug treatment:
Remove bed linens and wash/dry on high heat
Remove clothes from dresser drawers and wash/dry on high heat. Do not put the clothes back because we will be treating the dresser drawers
Put away all food, drinks, and kitchenware
Put away all pet bowls and toys
Clear floors including under beds and closet floors
Q: I had a question that wasn't covered here. What should I do?
A: If you have a question that we didn't cover, just give us a call at 623-202-7924. A phone call is always the best way to get a hold of us. If you prefer to send us an email, you can also use our Contact Us page which has a contact form.
We look forward to serving you!
Free Bed Bug Pesticide/Chemical Estimate
If you'd like to request a free estimate for a bed bug pesticide/chemical treatment, you can give us a call at 623-202-7924. You can also request an estimate online, but it is much easier to schedule an inspection on the phone than over email.
Bed Bug Furniture Removal and Mattress Disposal
We also provide bed bug furniture removal and mattress disposal for all bed bug infested items. Click here to learn more about furniture removal and mattress disposal service…