Need to get rid of bed bugs?
Guaranteed bed bug extermination – up to a 1-year warranty
Bed Bug Treatment Options
When it comes to getting rid of bed bugs, you have two options for complete treatment and extermination. Both treatment options are 100% effective, and we offer up to a 1-year warranty when we treat the entire home.
Our Bed Bug Services Are 100% Guaranteed with Up to a 1-Year Warranty
Unlike some of our competitors, we guarantee our work for a year. This means, if any bed bugs arise after we've completed the job, we will come back out to your house free of charge to re-treat. To learn more about our 1-year warranty, click here.
Bed Bug Pesticide / Chemical Spray
Phoenix Bed Bug Exterminator – 100% GUARANTEED
Need to get rid of bed bugs? Phoenix Bed Bug Expert offers guaranteed bed bug treatment and extermination. Our treatments come with up to a one year warranty. We have been in the bed bug industry for 6+ years and have treated over 8,000 homes across the Valley with 100% success. General pest control companies do not have the same amount of experience and knowledge as we do when it comes to bed bugs.
If you suspect bed bugs are in your home because of itchy bumps (that often look like mosquito bites) or red rashes, call us.
When you call to schedule a bed bug inspection, we will thoroughly inspect your entire home where bed bugs are often found.
If we do find bed bugs in your residence, we will let you know how many rooms they've spread to and go over all treatment options.
Customer Service You Can Count On
You can always expect excellent customer service, and you can find all of our customer reviews around the web on our Customer Testimonials page.
We are committed to providing efficient bed bug removal and bed bug extermination services to the Phoenix-metropolitan area, including Glendale, Peoria, Chandler, Scottsdale, Mesa, Tempe, and other surrounding areas.
Discreet Bed Bug Treatment & Extermination
Bed bugs are a challenging and formidable pest to control. Many people may try to treat bed bugs on their own, but quickly find that their product does not work, or they did not exterminate all of the bed bugs.
Because bed bugs can easily hide in many places (any small crevice), thorough and professional extermination is needed to get rid of bed bug infestations. The longer you put off getting your house treated, the more time bed bugs have to lay eggs and spread further into your home. The two options of treatment is a heat treatment or a chemical spray.
The main difference between the two is the bed bug treatment cost and how quickly they work to eliminate your bed bugs. Heat treatment is the best option because within 8 hours all bed bugs and eggs will be dead. The chemical spray is the lower-cost option, but it will take up to 30 days for all bed bugs to come in contact with our pesticide.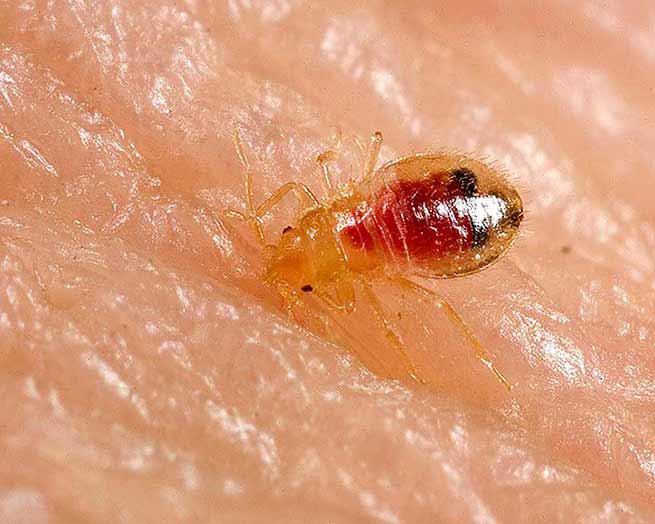 Request an Estimate or Schedule Service by Calling 623-202-7924