Commercial Bed Bug Treatment – Heat & Pesticide
Property Managers – We Offer Guaranteed Bed Bug Treatment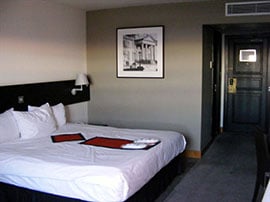 There is no debate, bed bugs are bad for business. It's an issue that a business owner or property manager hopes to never face, but bed bug infestations are almost impossible to prevent with commercial properties due to the high-level of people passing through.
As fully licensed and insured bed bug exterminators, we can help you with any type of bed bug problem in any commercial property including apartment complexes, office buildings, hotels/motels, nursing homes, assisted living facilities, sober living facilities, and more.
Phoenix Bed Bug Expert has over 6 years of experience working with property management companies and commercial properties. We understand a bed bug infestation can be damaging for your brand reputation and must be dealt with immediately. Tenants will also often make infestations worse by attempting to self-treat. This ends up spreading the bed bugs further into the building and adjoining rooms.
Whether you have caught the bed bug infestation early, or it is something more serious, the Bed Bug Experts are ready to get rid of any bed bug infestation with just one treatment. For a free estimate, call Phoenix Bed Bug Expert at 623-202-7924.
How Our Commercial Bed Bug Treatments Work
After providing over 8,000 bed bug treatments across the Valley, we have a simple 3-step process to provide you with the most effective commercial bed bug treatment.
#1. Thorough Bed Bug Inspection
Before we provide any treatment, we will first schedule a day and time to thoroughly inspect the affected building or rooms. We will provide a commercial bed bug treatment plan based on the findings from our inspection.
We have provided thousands of bed bug inspections and have found bed bugs in adjoining rooms when the property manager suspected the infestation was isolated to one room or area.
#2. Preparation for Bed Bug Treatment
Proper preparation is nearly just as important as the treatment itself. Depending on the type of commercial property we will be treating, there may be a small list of preparations that must be done before we can provide treatment. For example, one of the preparations for an apartment or hotel room is removing all bed linens. A preparation checklist will be provided at the time of the initial inspection.
#3. Perform Bed Bug Treatment
After the property has been properly prepared based on the provided checklist, we will schedule a service treatment date.
We offer two types of bed bug treatments: a heat treatment or chemical/pesticide spray. Although both are 100% effective, the bed bug heat treatment option is preferred by most because it provides same-day relief.
The heat treatment option will kill all bed bugs and eggs on the same day we treat (bed bug and eggs cannot survive our 150-degree heat), while the chemical/pesticide option will take up to 30 days because bed bug eggs must hatch and crawl across our applied pesticide. For questions about our treatments, call 623-202-7924.
Bed Bug Warranty Program for Commercial Properties
For ultimate peace of mind, we can provide a bed bug warranty program for the commercial property or properties you manage. This specialized program is designed to not only provide quick and effective bed bug treatments when infestations arise but also provide proactive service so any bed bug that makes it into your property will not survive.
To learn more about our bed bug warranty programs for commercial buildings and property management companies, give Phoenix Bed Bug Expert a call at 623-202-7924.
FAQs From Property Management Companies
Below are some of the most frequently asked questions from property management companies regarding bed bugs and the two types of bed bug treatments we offer.
Q: Do I need to remove anything from the property?
A: With our heat treatment, you will need to remove heat sensitive items such as vinyl blinds and anything pressurized. Any electronics would also need to be powered down and protected from the heat. With our chemical treatment, items do not need to be removed but items will need to be pulled away from the wall by about six inches.
Q: How long does it take to work?
A: With a heat treatment, the actual treatment will take 6 to 8 hours and will work immediately. Once the treatment is done, no living bed bug or egg will be on your property. With a chemical treatment, the treatment will take roughly 3 hours and can take up to 30 days to fully eradicate a bed bug infestation.
Q: How do I prevent getting bed bugs?
A: To prevent bed bugs you must be aware of common places they are often found. Public areas like movie theaters, doctor offices, restaurants, and so on. They are often found on the seams of furniture, bottom perimeter of chairs, and even behind office cubicles. They like heat and have also been found near computer towers.