Assisted Living Facility Bed Bug Extermination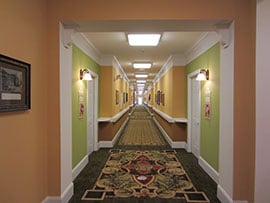 Do you suspect you may have bed bugs at your assisted living facility? We are a licensed and insured bed bug exterminator offering guaranteed treatments across Arizona.
With 8,000+ bed bug treatments across the Valley, we have the expertise and knowledge to exterminate your bed bug infestation.
If you are already certain that you have bed bugs, contact an exterminator immediately to prevent bed bugs from spreading to other rooms in your assisted living facility.
You will not be able to solve your bed bug problem by using store-bought insecticides due to the chemical resistance bed bugs have developed. When store-bought chemicals are used, bed bugs will detect them and spread/hide deeper in baseboards, outlets, and any other crack and crevice that chemical cannot reach.
Bed Bug Inspection for Assisted Living Facilities
A complete bed bug inspection by a Phoenix Bed Bug Expert is the first step to bed bug treatment. The first time you see or have a report of a bed bug at your assisted living facility, you need to get in touch with a bed bug exterminator immediately.
During our bed bug inspection, we will first inspect where the bed bug was spotted, along with the rest of the assisted living facility. That includes all rooms, areas, and places where bed bugs love to hide.
Once an inspection is completed, we will be able to let you know how many rooms we found evidence in, and the cost to provide a bed bug treatment. For the best bed bug extermination services across Phoenix, Glendale, Scottsdale, Mesa, and surrounding areas, contact us at 623-202-7924.
Bed Bug Treatments for Assisted Living Facilities
We offer guaranteed bed bug extermination and treatments through our heat treatments and professional-grade chemical treatments. Below is a breakdown of your options…
Option #1 – Bed Bug Heat Treatment
Instant relief from bed bugs and eggs using our specialized heating equipment. Heat kills all stages of bed bugs including adults, nymphs, and eggs with one treatment. The heat will permeate into mattresses, furniture, carpets, and walls killing 100% of bed bugs and eggs the same day we treat.
Option #2 – Chemical/Pesticide Treatment
This kills all bed bugs once they come in contact with our pesticide. Bed bug eggs must hatch and crawl over our pesticide. This method/process will take up to 30 days to treat most bed bug infestations.
To give you complete peace of mind and ensure complete removal of ALL bed bugs, we offer a 1-year warranty with our bed bug heat treatment, and up to a 6-month warranty with our chemical treatments.
Frequently Asked Questions about Bed Bugs
Q: Where are bed bugs often found?
A: Bed bugs are known as "champions of hide-and-seek" because they are capable of hiding virtually anywhere. Besides the common areas like mattresses and box springs, they can also hide in closets, shoes, clothes, dressers, electronics, walls, outlets, etc.
Q: Will I need to get rid of any furniture?
With our treatment options, you do not need to get rid of any of your furniture. However, if your mattress has bed bug spots (digested blood) you may want to invest in a new mattress or a bed bug cover.
Q: Are your bed bug treatments safe?
Yes, both bed bug treatments are safe for your home, family, and pets. The heat our team uses comes from specialized heaters equipped with safety devices such as thermostats and sensors to heat the target area safely to an exact temperature. When chemical treatments are performed by a licensed exterminator according to the labeled instructions, they pose no harm to your family or pets.
Q: What is the BEST treatment to get rid of bed bugs?
The best treatment for bed bugs is heat treatment because it will eliminate all bed bugs and eggs the same day you receive treatment. The heat can reach areas where pesticide cannot be used. Using heat, we can heat your facility rooms to 120 to 150 degrees Fahrenheit eliminating your entire bed bug infestation.
Bed Bug Customer Testimonials
"These guys were so great! I was so embarrassed and uncomfortable with having bed bugs, they made me feel very comfortable and took care of our small infestation very quickly!"

Rating:5 of 5
Sincerely, Tassy B.