Cave Creek Bed Bug Extermination & Treatment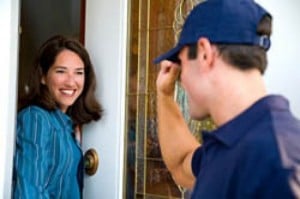 Need to get rid of bed bugs? Phoenix Bed Bug Expert offers guaranteed bed bug treatment and extermination. Bed bug treatments come with a one year warranty.
We have been in the bed bug industry for 4+ years and have helped thousands of Valley residents get rid of their bed bugs through our guaranteed treatments.
Bed Bug Treatment Options – Heat & Chemical
Phoenix Bed Bug Expert offers two different types of treatments – bed bug heat treatment and/or bed bug chemical treatment. Both are effective and guaranteed to exterminate your bed bugs.
Please read below for more information about our bed bug treatment options:
Bed Bug Heat Treatment
Heat kills all stages of bed bugs including adults, nymphs, and eggs with just one treatment
Non-toxic, non-chemical approach that penetrates mattresses, wall cavities, and other hard to reach places
One treatment is all it takes – then your bed bugs are gone
One year guarantee – if bed bugs return, you are protected with our warranty
All bed bugs are 100% eliminated following treatment, providing instant relief
Bed Bug Chemical Treatment
This method kills all bed bugs and bed bug eggs within 30 days in most cases
Treat entire home – chemical spray penetrates everything from baseboards to furniture to home furnishings, ensuring all bed bugs come in contact with chemical
Detailed treatment ensuring all cracks and crevices in furniture are treated
Bed bugs are instantly killed once they make contact with the chemical
Commercial Bed Bug Treatment in Cave Creek AZ
In addition to residential properties and homes, we also provide 100% guaranteed commercial bed bug treatments to apartment complexes, office buildings, hotels/motels, nursing homes, senior living facilities, assisted living facilities, sober living and rehab facilities, and more.
Where Do Bed Bugs Hide?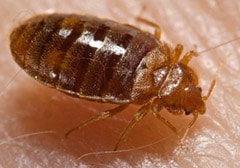 The simplest way to locate bed bugs is to find for actual, living bed bugs. Spotting them may be a bit of a challenge because of their small size, so closely scrutinizing a potential bed bug nest using a magnifying lens may help.
Bed bugs can infest almost any object, but they are most commonly found in the bedroom. Mattresses, blankets, pillows, and linens are among the usual things anyone should first check for bed bugs, as these items are conducive to an ideal bed bug nesting location.
Bed bugs are attracted to warmth and carbon dioxide so there is no surprise that they have human beings as their top target for food source. They typically become active at night, when the majority of people are sleeping.
Other parts of the house and different furniture pieces can also be infested with bed bugs. For instance, cracks on the wooden flooring, and dot-sized holes on wall corners can serve as great breeding havens for these parasites. Coffee tables, chairs, sofas, and cabinets can also house bed bugs.
Even people's personal belongings, including clothes, bags, purses, luggage, and other garments, can also be in danger of these bloodsuckers.
What Makes Bed Bugs Dangerous?
Bed bugs are a type of bug that feeds on blood. They are a species belonging to the Cimicidae family and are found everywhere.
Very small in size, bed bugs can move around inconspicuously. They are about the size of an apple seed, so jumping from one thing to another without being noticed is entirely possible.
Bed bugs can be the cause of mild to severe allergic reactions that may lead to varying degrees of complications, depending on the victim's health history. Their saliva contains certain chemical compounds that may trigger pain, rashes, redness, swelling, and irritation, so they have to be eradicated as soon as possible to avoid these unfortunate circumstances.
Where Do Bed Bugs Come From?
People can pick up bed bugs unknowingly in any of their day-to-day activities. They can get these bugs from school, office, hotel room, gym, stores, bus stops, and more.
You can pick bed bugs up even from a just brief contact or exposure to a contaminated object or area. ANYONE can get bed bugs, and you never expect it to happen to you.
Cave Creek AZ Bed Bug Removal
Because of an anatomy that has the ability to withstand a wide range of atmospheric and environmental conditions, bed bugs require a considerable amount of effort before being successfully eliminated.
At temperatures lower than 60 degrees Fahrenheit, they can get into semi-hibernation mode to preserve their energy and prolong their lives. At temperatures between 62 and 111 degrees Fahrenheit, these pests can normally go on with their routines, searching for prey, feeding, and reproducing.
At temperatures higher than 120 degrees Fahrenheit, bed bugs meet their end as their bodies are no longer capable of enduring this extreme heat. This treatment option is known as a heat treatment. For more details, click here.
The other treatment option is a chemical treatment, which is significantly less than a heat treatment, but does take time before your bed bugs will be completely exterminated.
How Long Can Bed Bugs Survive Without Feeding?
Bed bugs, even the adult and mature ones, do not feed on a daily basis. Usually, they feed every three to five days. Once they feed and are full, it takes them a few days to completely digest their meals.
Right after enjoying a blood meal, their bodies turn bright red and become brown as the days pass by, signifying the gradual process of their digestion.
Call Phoenix Bed Bug Expert for a Free Estimate – 623-202-7924
"I am extremely pleased with the service I received when I called these guys. Anthony was friendly and gave me confidence that he would rid me of these horrible pests. It has been months now since my treatment and I couldn't be happier with the quality of service."

Rating:5 of 5
Sincerely, David J.
Cave Creek AZ Bed Bug Treatment Service Area by zip codes: 85327, 85331
Related Post Tags: bed bug control company Cave Creek, bed bug exterminator Cave Creek, bed bug heat treatment Cave Creek, bed bug removal Cave Creek, commercial bed bug treatment Cave Creek, residential bed bug treatment Cave Creek, best bed bug removal company Cave Creek, commercial bed bug removal Cave Creek, companies that get rid of bed bugs Cave Creek, Cave Creek bed bug control, home bed bug treatment Cave Creek, pest control bed bugs Cave Creek