Nursing Home Facility Bed Bug Extermination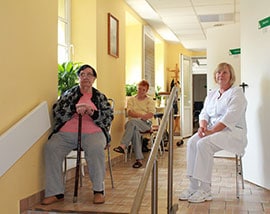 Do you suspect you may have bed bugs at your nurisng home facility? We are a licensed and insured bed bug exterminator offering guaranteed treatments across Arizona.
With 8,000+ bed bug treatments across the Valley, we have the expertise and knowledge to exterminate your bed bug infestation.
If you've already discovered and confirmed you have a bed bug infestation, it is important that you contact us immediately to prevent bed bugs from spreading to other rooms and areas of your nursing home facility.
Due to the chemical resistance bed bugs have developed over time, getting rid of an entire infestation with store-bought chemicals is not possible. Bed bugs will identify the areas you've treated and spread deeper into hiding spots, such as baseboards, outlets, and any other crack and crevice that chemical cannot reach.
Bed Bug Inspection for Nursing Home Facilities
When a potential bed bug infestation is reported, you should immediately schedule a bed bug inspection. It is very important that you deal with a bed bug infestation as soon as it is detected.
Not only can they spread quickly to other areas, but your nursing home could develop a bad reputation if left untreated.
At our bed bug inspection, we will be inspecting all rooms and common areas of the nursing home facility for any evidence of bed bugs. Once complete, we will let you know what was found and provide an estimate for both treatment options.
For the best bed bug extermination services across Phoenix, Glendale, Scottsdale, Mesa, and surrounding areas, contact us at 623-202-7924.
Bed Bug Treatments for Nursing Home Facilities
We offer guaranteed bed bug extermination and treatments through our heat treatments and professional-grade chemical treatments. Below is a breakdown of your options…
Option #1 – Bed Bug Heat Treatment
Immediate relief of a bed bug infestation with one treatment and 100% success rate. all stages of bed bugs including adults, nymphs, and eggs are killed the same day we treat.
Option #2 – Chemical/Pesticide Treatment
Can take up to 30 days to eliminate an entire bed bug infestation. Bed bug eggs must hatch and come in contact with our professional-grade chemical/pesticide.
To give you complete peace of mind and ensure complete removal of ALL bed bugs, we offer a 1-year warranty with our heat treatment, and up to a 6-month warranty with our bed bug chemical treatments.
Frequently Asked Questions about Bed Bugs
Q: Where are bed bugs often found?
A: Bed bugs are often referred to as "champions of hide-and-seek" because of how great they are at being undetected and hiding. In addition to the usual areas of mattresses and box springs, you can also come across bed bugs in closets, shoes, clothes, dressers, electronics, walls, outlets, etc.
Q: Will I need to get rid of any furniture?
It is not necessary to get rid of any furniture, however due to spotting from bed bug feces, you may want to consider it. If your furniture or mattress does not contain any bed bug spotting, then you can absolutely keep your furniture.
Q: Are your bed bug treatments safe?
Absolutely, the heat treatment and professional-grade chemical/pesticide treatment is safe for your family and pets. Our heat treatment is done with specialized equipment that comes with thermostats and sensors to get an exact temperature. When chemical treatments are performed by a licensed exterminator according to the labeled instructions, they pose no harm to your family or pets.
Q: What is the BEST treatment to get rid of bed bugs?
A bed bug heat treatment is the ultimate, best treatment because it will get rid of an entire infestation on the same day we treat. Although the heat treatment is the more expensive option, you will not need to wait up to 30 days like you would need to with the professional-grade chemical/pesticide option.
Bed Bug Customer Testimonials
"Anthony was super helpful. He went above and beyond to help identify what kind of bugs I was finding. I would recommend him to a friend of family member without hesitation."

Rating:5 of 5
Sincerely, Arthur S.