Peoria AZ Bed Bug Extermination & Treatment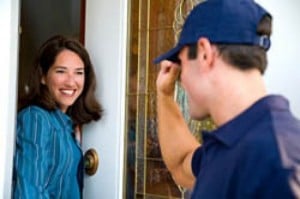 Need to get rid of bed bugs? Phoenix Bed Bug Expert offers guaranteed bed bug treatment and extermination. Bed bug treatments come with a one year warranty.
We have been in the bed bug industry for 4+ years and have helped thousands of Valley residents get rid of their bed bugs through our guaranteed treatments.
Bed Bug Treatment Options – Heat & Chemical
Phoenix Bed Bug Expert offers two different types of treatments – bed bug heat treatment and/or a bed bug chemical treatment. Both are effective and guaranteed to exterminate your bed bugs.
Read below for more information about our treatment options:
Bed Bug Heat Treatment
Heat kills all stages of bed bugs including adults, nymphs, and eggs with just one treatment
Non-toxic, non-chemical approach that penetrates mattresses, wall cavities, and other hard to reach places
One treatment is all it takes – then your bed bugs are gone
One year guarantee – if bed bugs return, you are protected with our warranty
All bed bugs are 100% eliminated following treatment, providing instant relief
Bed Bug Chemical Treatment
This method kills all bed bugs and bed bug eggs within 30 days in most cases
Treat entire home – chemical spray penetrates everything from baseboards to furniture to home furnishings, ensuring all bed bugs come in contact with chemical
Detailed treatment ensuring all cracks and crevices in furniture are treated
Bed bugs are instantly killed once they make contact with the chemical
Commercial Bed Bug Treatment in Peoria AZ
In addition to residential properties and homes, we also provide 100% guaranteed commercial bed bug treatments to apartment complexes, office buildings, hotels/motels, nursing homes, senior living facilities, assisted living facilities, sober living and rehab facilities, and more.
What Are Bed Bugs?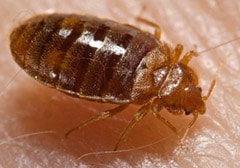 A bug species belonging to the family Cimicidae, bed bugs are insects with a parasitic nature. They exclusively rely on blood for food.
They are most commonly known to prey on human blood, but they also feed on other warm-blooded living things, such as bats, rodents, canines, and felines.
When Do Bed Bug Attack/Feed?
Bed bugs got their name from their preferred environment, i.e. beds or any other things inside or near beds.
They are generally the most active in the evening, but they are not necessarily nocturnal.
They look for exposed skin so that they can start their feeding, and since nighttime is typically downtime for most human beings, it is when bed bugs like to strike.
How Do Bed Bugs Feed?
With mouths that can pierce through skin, bed bugs can stealthily get close to their prey and begin sucking blood.
Even in the dark, they can find their way to food by sensing the presence of warmth, carbon dioxide, and other types of chemicals. They typically leave bite marks on a person's neck, arms, face, and hands.
How Do Bed Bug Bites Affect Humans?
Bed bug mouthparts contain saliva that holds amounts of anticoagulants. Once they saw through human skin, a victim may experience a variety of side effects. Some people may exhibit no reaction at all, while others may show red and swollen breakouts that tend to be quite itchy. These symptoms may persist for many weeks.
Best Bed Bug Treatments in Peoria, AZ
One product that can relieve the itchiness and swelling is calamine lotion. By dabbing it onto the infected area, it can minimize the irritation, pain, and discomfort brought about by the bites. It should be re-applied every few hours for weeks until the bites are barely noticeable.
Another recommended treatment for bed bug bites is hydrocortisone, which can be bought over-the-counter. It is widely used to relieve itching, redness, and inflammation caused by bed bug bites and other skin problems.
Vitamin C is also an effective, temporary treatment for bed bug bites. Get a hold of a few Vitamin tablets and crush them into fine powder. Mix the pulverized Vitamin C with a few drops of water to create a paste. Dab it onto the bites to ease the pain and itchiness.
Different kinds of oil, such as tea tree oil and basil oil, contain antibiotic compounds that can act as organic disinfectants and alleviate the effects of bed bug bites.
To kill off the bacteria that induce the itching, an antiseptic cream can do the job. Apply it onto the bites to ease off the strong urge to scratch.
Now, if none of these topical treatment options work, it might be time to consider taking antihistamines. Consult a medical professional to know the correct dosage to ingest for the successful treatment of bed bug bites.
Call Phoenix Bed Bug Expert for a Free Estimate – 623-202-7924
"On time and very professional. They will walk you through every step, and I highly recommend this for anybody with a bed bug problem."

Rating:5 of 5
Sincerely, Raul P.
Peoria AZ Bed Bug Treatment Service Area by Zip Codes: 85345, 85380, 85381, 85382, 85383, 85385