Senior Living Facility Bed Bug Extermination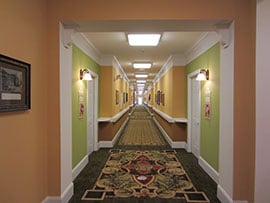 Do you suspect you may have bed bugs at your senior living facility? We are a licensed and insured bed bug exterminator offering guaranteed treatments across Arizona.
With 8,000+ bed bug treatments across the Valley, we have the expertise and background to eradicate your bed bug infestation.
If you've already found and validated you have a bed bug infestation, it is imperative that you contact us immediately to deter bed bugs from spreading to other rooms and areas of your senior living facility.
Because of the chemical resistance that bed bugs have developed over time, getting rid of a whole infestation with store-bought chemicals is not feasible. Bed bugs will recognize the areas you've treated and spread farther into hiding places, such as baseboards, outlets, and any other crack and crevice that chemical cannot reach.
Bed Bug Inspection for Senior Living Facilities
When a possible bed bug infestation is reported, you should quickly schedule a bed bug inspection. It is very crucial that you deal with a bed bug infestation as soon as it is discovered.
Bed bugs can spread quickly to other areas when left undetected, and your senior living facility can get a bad reputation if reviews are posted by residents.
During our bed bug inspection, we will be going through the entire senior living facility, first checking the initial spot of where the bed bug was reported and then checking the remaining rooms and common areas. Once complete, we will let you know what was found and provide an estimate for both treatment options.
For the best bed bug extermination services across Phoenix, Glendale, Scottsdale, Mesa, and surrounding areas, contact us at 623-202-7924.
Bed Bug Treatments for Senior Living Facilities
We offer two types of bed bug treatments – a heat treatment or professional-grade chemical/pesticide treatment. Both are 100% effective and guaranteed to work.
Option #1 – Bed Bug Heat Treatment
Instant relief of a bed bug infestation with a single treatment – 100% success rate. all stages of bed bugs including adults, nymphs, and eggs are exterminated the same day we treat.
Option #2 – Chemical/Pesticide Treatment
Can take up to 30 days to eliminate an entire bed bug infestation. Bed bug eggs need to hatch and crawl over our professional-grade chemical/pesticide.
To give you complete peace of mind and guarantee complete removal of ALL bed bugs, we offer a 1-year warranty with our heat treatment, and up to a 6-month warranty with our bed bug chemical treatments.
Frequently Asked Questions about Bed Bugs
Q: Where are bed bugs often found?
A: While bed bugs are often found in beds, they can actually be found in a number of different areas including dressers, nightstands, electrical outlets, baseboards, and more. They tend to hang out on and around fabric material, so this would be a good area to check.
Q: Will I need to get rid of any furniture?
A: No you will not need to get rid of your furniture. We are able to treat your furniture with our chemical/pesticides, and with the heat treatment, it is able to permeate through everything and you will be free of bed bugs once we've completed our treatment. If your furniture or bedding has spotting from bed bug feces, you may want to get new furniture or a bed bug cover for your mattress.
Q: Are your bed bug treatments safe?
A: Yes, whether you go with the heat treatment or chemical/pesticide treatment, both are safe for your family and pets when applied by a licensed bed bug exterminator.
Q: What is the BEST treatment to get rid of bed bugs?
A: The best treatment is a heat treatment because it will provide immediate, same-day relief from all bed bugs and eggs. Although it is the more expensive treatment, you will not need to wait up to 30 days as you would with the pesticide/chemical treatment option.
Bed Bug Customer Testimonials
"Excellent customer service and friendly people to work with. They answered all of my questions and did an extremely thorough job. I would recommend Phoenix Bed Bug Expert to anyone in need of bed bug extermination. Thank you Anthony!"

Rating:5 of 5
Sincerely, Melissa H.