Surprise AZ Bed Bug Extermination & Treatment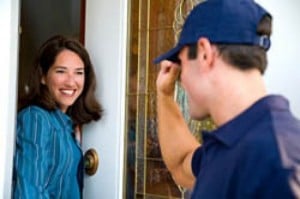 Need to get rid of bed bugs? Phoenix Bed Bug Expert offers guaranteed bed bug treatment and extermination. Bed bug treatments come with a one year warranty.
We have been in the bed bug industry for 4+ years and have helped thousands of Valley residents get rid of their bed bugs through our guaranteed treatments.
Bed Bug Treatment Options – Heat & Chemical
Phoenix Bed Bug Expert offers two different types of treatments – bed bug heat treatment and/or a bed bug chemical treatment. Both are effective and guaranteed to exterminate your bed bugs.
Read below for more information about our treatment options:
Bed Bug Heat Treatment
Heat kills all stages of bed bugs including adults, nymphs, and eggs with just one treatment
Non-toxic, non-chemical approach that penetrates mattresses, wall cavities, and other hard to reach places
One treatment is all it takes – then your bed bugs are gone
One year guarantee – if bed bugs return, you are protected with our warranty
All bed bugs are 100% eliminated following treatment, providing instant relief
Bed Bug Chemical Treatment
This method kills all bed bugs and bed bug eggs within 30 days in most cases
Treat entire home – chemical spray penetrates everything from baseboards to furniture to home furnishings, ensuring all bed bugs come in contact with chemical
Detailed treatment ensuring all cracks and crevices in furniture are treated
Bed bugs are instantly killed once they make contact with the chemical
Commercial Bed Bug Treatment in Surprise AZ
In addition to residential properties and homes, we also provide 100% guaranteed commercial bed bug treatments to apartment complexes, office buildings, hotels/motels, nursing homes, senior living facilities, assisted living facilities, sober living and rehab facilities, and more.
How to Spot a Bed Bug Infestation in Surprise AZ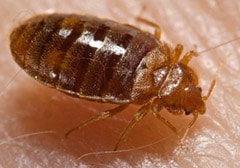 Reddish-brown in color and about as small as an apple seed, bed bugs are blood-sucking parasites that can thrive and breed in different kinds of environment.
In order for them to survive, they look for a host that can provide them with their food. They can cause several health problems, including allergies and rashes, so finding their nesting locations has to be done as soon as possible.
Bed bugs are usually found in floor cracks, baseboard crevices, carpets, mattresses, linens, sofas, and other things. They can also sneak into closets and dressers, bags, garments, and other personal belongings.
Close inspection. If you look closely at a piece of furniture and notice a cluster of flat, oval-shaped, wingless insects that are about 3 to 5 millimeters in length, it is very likely that you have found a bed bug nest. These pests are normally brown when hungry, but they turn bright red and become swollen after a hearty blood feast.
Bites. Red, itchy marks on the skin, particularly in the arms, neck, hands, and face, are among the earliest symptoms of a bed bug bite. These tend to swell and reach extreme itchiness levels for days.
Bed bug skins. Just like many other living things, bed bugs shed skin as they grow. They start off as nymphs after hatching, go through the molting process, and finally become adults. Finding evidence of their shedding is a clear indication they are present.
Feces. After feeding on their hosts, bed bugs retreat to their home base where they seek cover and defecate. Their excretions are typically tiny brown or black lumps on non-porous materials, or brown or black spots on permeable surfaces.
Making Your Home Bed Bug-Free After Extermination
Because of how harmful and destructive bed bugs can be, it is only sensible to educate yourself with some of the best techniques on how to prevent bed bug infestations.
Regularly wash carpets, towels, bed sheets, blankets, and clothes in hot water to prevent the start of an infestation. Bed bugs can be killed by exposing them to high temperatures, ideally over 120 degrees Fahrenheit.
Repair or cover any exposed crevices to not let bats and rodents in. Aside from human beings, these animals can also serve as hosts for bed bugs.
The reuse of infested mattresses and furniture pieces is up to the customer. Our bed bug treatments are guaranteed to get rid of the bed bugs, and our heat treatments will even kill them the same day we perform the treatment.
The fecal matter from bed bugs does stain the mattress, but a bed bug cover can easily hide that from being shown. Again, it ultimately comes down to the customer.
To help you find, confirm, and get rid of bed bug infestations in your property, contact Phoenix Bed Bug Expert at 623-202-7924 for a free estimate.
Call Phoenix Bed Bug Expert for a Free Estimate – 623-202-7924
"Great Service, Great Price, Lasting Results. Anthony and his team arrived on time per agreement and completed the eradication in about 8 hours. His expert investigation proved out that the infestation was not from an adjoining unit and he confirmed to us their 1 year warranty against re-infestation. Although I pray, we never have this happen again, if it does Phoenix Bed Bug Expert gets the call to afford us a solution."

Rating:5 of 5
Sincerely, Scott K.
Surprise AZ Service Area by Zipcodes: 85374, 85379, 85388, 85378, 85387