Tempe AZ Bed Bug Extermination & Treatment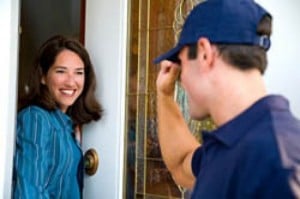 Need to get rid of bed bugs? Phoenix Bed Bug Expert offers guaranteed bed bug treatment and extermination. Bed bug treatments come with a one year warranty.
We have been in the bed bug industry for 4+ years and have helped thousands of Valley residents get rid of their bed bugs through our guaranteed treatments.
Bed Bug Treatment Options – Heat & Chemical
Phoenix Bed Bug Expert offers two different types of treatments – bed bug heat treatment and/or a bed bug chemical treatment. Both are effective and guaranteed to exterminate your bed bugs.
Read below for more information about our treatment options:
Bed Bug Heat Treatment
Heat kills all stages of bed bugs including adults, nymphs, and eggs with just one treatment
Non-toxic, non-chemical approach that penetrates mattresses, wall cavities, and other hard to reach places
One treatment is all it takes – then your bed bugs are gone
One year guarantee – if bed bugs return, you are protected with our warranty
All bed bugs are 100% eliminated following treatment, providing instant relief
Bed Bug Chemical Treatment
This method kills all bed bugs and bed bug eggs within 30 days in most cases
Treat entire home – chemical spray penetrates everything from baseboards to furniture to home furnishings, ensuring all bed bugs come in contact with chemical
Detailed treatment ensuring all cracks and crevices in furniture are treated
Bed bugs are instantly killed once they make contact with the chemical
Commercial Bed Bug Treatment in Tempe AZ
In addition to residential homes, we also provide 100% guaranteed commercial bed bug treatments to apartment complexes, office buildings, hotels/motels, nursing homes, senior living facilities, assisted living facilities, sober living and rehab facilities, and more.
Where Do Bed Bugs Come From?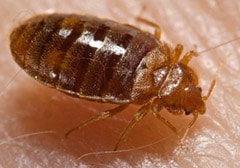 Bed bugs infestations are a major problem that many homeowners face. These pests are capable of a lot of damage, not only to your properties but to your health as well.
You can pick up bed bugs anywhere – movie theaters, restaurants, doctor offices, stores, etc.
Because of their microscopic size, bed bugs are able to conceal themselves and jump from one point to another without being noticed. They can stealthily attach themselves onto your clothes or bag as you get on a bus on your way to work, or they can latch onto your pet dog or cat while doing their business outdoors.
Once you or your pet enter the house, these bed bugs wait no time in finding the perfect place to build a nest, whether in a rug in your living room or in your favorite pillow in your bedroom.
Common Nesting Grounds for Tempe Bed Bugs
Selecting the perfect nesting place is not a task that bed bugs mull over. These blood-suckers can thrive in a wide range of conditions, hot or cold, dry or wet.
When dealing with a potential bed bug infestation in your home, you can begin closely inspecting the following for signs of bed bugs:
Inside picture frames, wall clocks, and other wall fixtures
In bookcases and cabinets
Edges of rugs and carpets
Behind wallpaper, electric outlets, and light switches
In curtains and draperies
In chairs, tables, and sofas
In bed frames, drawers, closets, and bureaus
And in comforters, blankets, linens, sheets, and mattresses
Once You Have Identified a Tempe Bed Bug Infestation
The first thing to do the moment you spot a bed bug nest is to isolate the area. Make sure to also carefully examine every single object adjacent to the affected zone for bed bug traces.
If you are not careful about isolating the area, contaminating other areas is very likely to happen. We recommend closing the door and putting a towel underneath the door.
You also should get rid of clutter in the surroundings so as to eliminate options for bed bug hiding places. It is quite easy for these pests to escape and discover another breeding ground without you realizing it.
For bed bug infested mattresses and garments, washing in high temperature is recommended. Switch the machine to the hottest setting to effectively kill the adult bugs and their eggs.
If there are open and exposed cracks and crevices in your home, fill them with caulk or fix them with sealants and moldings, as these tiny gaps can serve as entryways to bed bugs coming from the outside.
Next you are going to want to give us a call at 623-202-7924 to come out to provide you with a free inspection and estimate to get rid of your bed bugs. We will go over both treatment options with you (heat treatment and chemical treatment) and answer any questions you may have about either options.
Call Phoenix Bed Bug Expert for a Free Estimate – 623-202-7924
"Called these guys up for my dad who lives in Phoenix to clean out what he described as a "horrific infestation". I was told Phoenix Bed Bug experts were extremely friendly, timely, and that they did an amazing job getting rid of all these lil nasty guys. They were extremely affordable too!"

Rating:5 of 5
Sincerely, Dino G.
Tempe AZ Service Area by Zip Codes: 85280, 85281, 85282, 85283, 85284, 85285, 85287
Related Post Tags: bed bug control company Tempe, bed bug exterminator Tempe, bed bug heat treatment Tempe, bed bug removal Tempe, commercial bed bug treatment Tempe, residential bed bug treatment Tempe, best bed bug removal company Tempe, commercial bed bug removal Tempe, companies that get rid of bed bugs Tempe, Tempe bed bug control, home bed bug treatment Tempe, pest control bed bugs Tempe