Most Effective Bed Bug Treatment in Arizona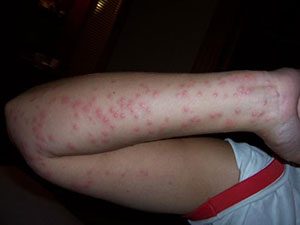 Anyone can end up with bed bugs inside their home. There has been a recent surge of homeowners across the U.S. suddenly dealing with these problematic bed bugs in their personal living spaces.
This is mainly due to more people traveling and bed bugs building up a resistance to the store-bought chemicals/pesticides.
A common misconception is that only people who are dirty will get bed bugs, but the reality is people can catch them from anywhere. Whether from riding on public transportation, watching a movie in a theater, spending the night in a hotel, or even a friend who may have unintentionally brought a bug or two with them, the possibilities of how you could have got them is endless.
The bad news is that once there is a bed bug in your home, the problem can quickly grow out of control without professional treatment and extermination.
Once you know you have bed bugs, the next question is… what is the most effective treatment method to get rid of bed bug infestations in Arizona?
What Is the Best Bed Bug Treatment in Arizona?
While doing some of your own research, you may have heard about all kinds of different treatments that are used by people in an attempt to kill bed bugs.
Unfortunately, most of those treatments do not work especially the at-home remedies that could potentially make the problem even worse by causing the bed bugs to spread out even further throughout the home.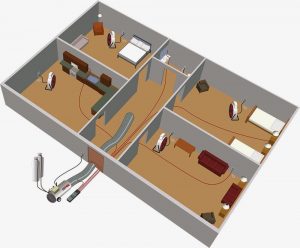 The most effective bed bug treatment available today is a bed bug heat treatment. This treatment is designed to eradicate an entire bed bug infestation (including all eggs) in just 6 to 8 hours.
Not only will your bed bugs be gone, but a heat treatment will also relieve the stress, frustration, and psychological effects that also come along with bed bugs.
Chemical/pesticide treatments are the second most effective treatment, but this approach takes up to 30 days to eradicate an entire bed bug infestation. This means homeowners will likely continue seeing some bugs and dealing with bites for up to four weeks after the treatment takes place.
However, that is not the case with the heat treatment. With a heat treatment, we thoroughly heat every room up to 150 degrees to properly kill every last bed bug inside the home in just one day. The heat kills every stage of bed bug life, including the eggs.
Is a Bed Bug Heat Treatment Safe for My Family?
Yes – a bed bug heat treatment is a safe and non-toxic process that only takes a day to complete. There are no risks to your family or pets.
While you are having the heat treatment done, everyone (including pets) must remain out of the house until the treatment is complete. The exact amount of time it is going to take to complete the treatment will vary based on the square footage of your home, the severity of infestation, and how much furniture you have.
In some cases, the treatment only takes around five hours, but it may take up to eight hours for larger jobs. You will be notified of the length of time it will take in advance so that you can plan accordingly.
Phoenix Bed Bug Expert offers the bed bug heat treatment service to those with bed bugs that are tired of dealing with the infestation and are looking for a quick, and extremely effective way to get rid of these annoying pests in just one day.
How Do I Get a Bed Bug Heat Treatment?
The first thing you should do is call us to come out for a complete bed bug inspection to find all the rooms the bed bugs have spread to.
Once the initial bed bug inspection is done, you will be provided with a written estimate to perform a heat treatment. Our heat treatments also come with a one year warranty. If you have any bed bugs during your warranty period, just give us a call and we will retreat.
Once you've decided to move forward with a heat treatment, we will schedule a day to perform the treatment and provide you with a preparation checklist so you can properly prepare your home. If you do not follow the preparation checklist, we will be unable to treat your home on the scheduled day.
Although bed bug infestations continue to be on the rise, a bed bug heat treatment is the most effective option which will put a stop to your problem right away.
To request service or for any questions about a bed bug heat treatment, give us a call at 623-202-7924.
Categories :
Resources